Haus Niederbrucker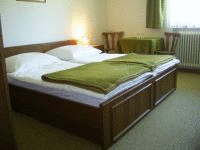 location: 2,5 miles to the center of St. Gilgen, 1600 yards to lake Wolfgang

The Guesthaus Niederbrucker is surrounded by green meadows and fields and offers an unique view to the Salzkammergut mountains. Cordiality and hospitality is very importent for family Niederbrucker.
The 6 rooms are equipped with shower, toilet and TV. Large garden with children's playground, private beach area, free bicycles hire and Wi-Fi are also available.