Zum Weissen Hirschen****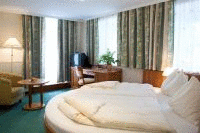 location: directly in the center of St. Wolfgang, directly on the lakeshore

the 4-star hotel "Weisser Hirsch" is an island of calm amidst the idyllic and traditional village St. Wolfgang.

relax on the beach of the hotel "Weisser Hirsch" or on the sunny terrace. Enjoy the tranquility of the jacuzzi, sauna and solarium, and look forward to an exciting new day in the Salzkammergut. What should it be this time? Maybe a trip to the Schafberg mountain by the coq railway? Or do you prefer the gray geese in the holiday region Almtal?