Welcome to the Charming Town of Bad Ischl
To Emperor Franz-Joseph's Summer Residence in the Heart of the Salzkammergut
The spa town of Bad ischl was the holiday destination of the emporer Franz Josef for 63 years.
Also known for its hot salty spa baths, famous for their wellness qualities, the town has been a favourite with visitors since victorian times.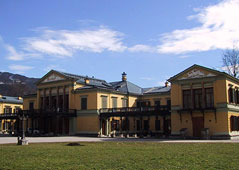 Imperial Villa Bad Ischl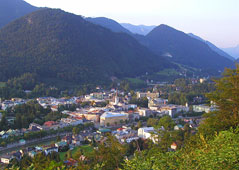 Bad Ischl
The Kaiservilla
In the centre of the town is the kaiservilla. Home to the emporer Franz Josef and princess Elisabeth, known as Sissi. This magnificent building standing in landscaped gardens is a must for all visitors to the town. A 45 minute guided tour, in english, takes in the rooms used by Franz Josef and Sissi during their holiday visits. Your visit to this wonderful building will be a holiday memory to treasure.
Wildenstein castle ruins
High above the town of Bad Ischl stands the ruins of the castle Wildenstein. Built originally to protect the salt mines in the area it has sadly fallen into disrepair. Vistits are possible all year round at no charge, and from the castle ruins are great views over the town of Bad Ischl
Technikmuseum
Situated just outside the town of Bad Ischl is the Technikmuseum. It has a range of historical means of transport including cars, motorbikes, planes, helicopters and steam trains
Anzenau flour mill
A flour mill has stood just outside Bad Ischl since 1325. Supplying the whole area with flour. The business grew until the building was not only a mill but also a backery and bathing house for locals.
Café Zauner
In the centre of the town of Bad Ischl is the café Zauner. Opened in 1832 it has always served quality austrian fare. Today it freshly bakes 122 different sorts of cakes and buscuits on the premises. During a royal tour the queen mother, with the princesses Elizabeth and margaret visited the café for coffee and cake.
For more details an these attractions and many more in the spa town of Bad Ischl please contact your holiday specialist in the Salzkammergut Pro Travel based in St. Wolfgang.