Advent at Wolfgangsee
Advent and Christmas in the Salzkammergut
As christmas approaches the villages on lake Wolfgangsee transfom themselves into Advent markets
experience the atmosphere of one of the magical times of the year. St. Wolfgang Advent market is a collection of huts selling traditional handicrafts, local food products, christmas gift ideas and a selection of warming drinks.

Advent in the Salzkammergut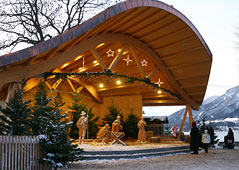 Advent in Strobl

Wolfgangseer Advent Nov 17 to Dec 23 2023
St. Gilgen hosts a baroque advent market an d the village of Strobl has the Krippendorf Advent market. All three bring the magic of the christmas season alive. On market days you have the chance to visit all three markets by taking the ferry around the lake Wolfgangsee. This is also the best way to se the advent candle that is situated on the lake.




For more information on the Advent markets, and the best way of experiencing the magic of advent please contact, with obligation, Pro Travel in St. Wolfgang.