Welcome to Ausseerland - Salzkammergut
Bad Aussee and its Surroundings
The Ausseerland holiday area is somthing special: traditional costumes, tradition, ancient customs and music are lived here all year round. Over the centuries many pretty traditions arised through countryfied work and handicraft.
The biggest flower festival is the "Ausseer Narzissenfest". Artistic oversized figures made from daffodils are shown on cars and boats. People from near and far are watching this spezial event: local women wear their traditional dresses: the Dirndl and the local men you find in their traditional leather trousers, the Lederhose.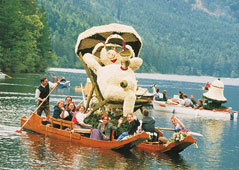 Daffodil Flower Festival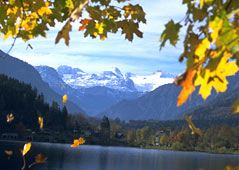 Holiday Region Ausseerland
Daffodil Flower Festival
The daffodils bloom from middle of May till middle of June in the Ausserland area. In the year 1960 the first flower festival was organized. Since that time it is hold every year. You should not miss this special folk festival. For further information please contact the Pro Travel agency in St. Wolfgang.
Alpine Garden
The Bad Aussee Alpine Garden (12,000m²) is home to about 2,000 kinds of alpine plants, shrubs and woods and rare plants from all over the world. In specially designed theme gardens medicinal plants, aromatic herbs, scenting plants, orchids and many other plants are presented. All the plants grow at an altitude of about 800m. The Alpine Garden is easily accessible by car! In the last years the Alpine Garden has become an insiders' tip amongst nature and garden lovers. Open from May to September.
Excursions in the Area of Ausseerland
"Kulm": world's largest nature ski-jump
Do not hesitate to send a non-binding request to the friendly team of Pro Travel with all your holiday requirements or any questions you may have, we will put together a package to suit you and that will let you enjoy your holiday from the moment you arrive in Austria.