Lake Fuschl and Fuschl village
Holiday Resort Fuschl: Magical Holidays in the Area of the Salzkammergut
The holiday region of lake Fuschl consists of seven resorts.
Ebenau, Faistenau, lake Fuschl, Hintersee, Hof, Koppl and Thalgau. All these combine to make the area the perfect holiday destination for families.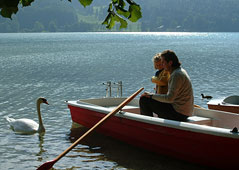 Swans on the Fuschlsee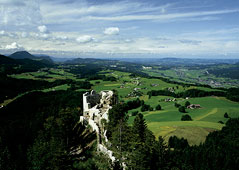 Wartenfels Ruin
Place of excursions in the holiday region Fuschlsee
Castle Fuschl
Fuschl castle was built in 1450 as a hunting lodge for the archbishops of Salzburg. Now a 5 star hotel it was a terrace café with stunning views down lake fuschl, that is a perfect refreshment stop for walkers.
Lake Fuschlsee Walking
The walking around lake Fuschlsee is suitable for all ages. It should take approx 4 hours. After the walk you can cool off by either swimming in the clear waters of the lake or use the swimming pool in the village.
Wartenfels fortress
Just outside the village of Fuschl are ruins of the Wartenfels fortress. Bulit in 1300 by the prince archbishop of Salzburg. It was to protect the border of the city of Salzburg
Attractions of the area
For more information on these and many more sights in and around the resort of Fuschl please contact the team at Pro Travel.