The Holiday Region of Lake Wolfgang
Holidays on Lake Wolfgang
Lake Wolfgang is the perfect holiday destination for those that want to combine a relaxing break with a variety of sporting and cultural activities.
The three main resorts on the lake are: St. Wolfgang, St. Gilgen and Strobl. These resorts have a range of water sports available, including: Waterskiing, Wakeboarding, and Tubing, or just simply jumping into the cool, clear water on a hot summers day.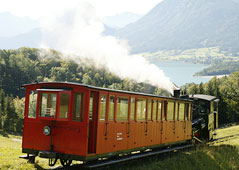 Schafbergbahn in St. Wolfgang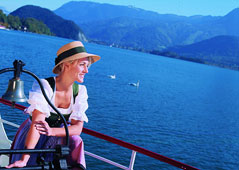 Boat trip on Lake Wolfgang
Wolfgangsee Boattrip
All three resorts are linked by a regular ferry service. A ferry has been in service on the lake since 1873 when the paddlesteamer "Kaiser Franz Josef" was launched. Apart from the three main stops it also calls at Furberg, Gschwendt, Reid Falkenstein and the Schafberg Mountain Cog Railway Station. Tickets are for one-way, return, or a day ticket, allowing you to use the ferry as a bus service to simply travel from one resort to another or spend the day hopping on and off the ferry as you explore the area.
A list of ferry timings, sporting and cultural events around Lake Wolfgang, booking of accommodation in these resorts, airport transfers, or just to have any questions answered you may have about the area, please contact our friendly team at Pro Travel, based in St. Wolfgang, who will be happy to help and assist you, without obligation, to make the most out of your holiday.