MOUNTAIN BIKING
be high up and explore the wonderful Salzkammergut mountain peaks
already with the first ray of sun on the top of a mountain
take a break in one of numerous mountain huts - that is enjoyable biking!

The Salzkammergut has some of the best mountain bike trails in Europe
for beginners as well for keen bikers to challenge the routes across the mountains of the area


Pro Travel BIKE HIRE, TRANSFER and more... at St. Wolfgang
daily 9.00am to 6.00pm
electric mountain bike, 500Wh Bosch battery, incl. bike lock


children's electric bike, 400Wh Bosch battery, incl. bike lock


1 day 25.00
2 days 50.00
3 days 60.00
4 days 80.00
5 days 100.00
6 days 120.00


mountain bike, incl. bike lock


1 day 25.00
2 days 50.00
3 days 66.00
4 days 88.00
5 days 105.00
6 days 126.00



Euro 3.00 per day/helmet
SPECIAL OFFER 50% discount on daily rate (depends on availability)
2.00pm to 6.00pm OR 6.00pm to 10.00am the following day

CYCLE & HIKING SHUTTLE to Schwarzensee
daily at 9.30am from St. Wolfgang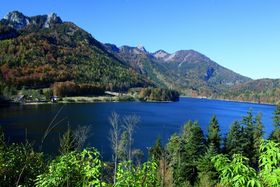 to make the walk easier or shorten the way to the nature reserve Schwarzensee
take the option to use our SHUTTLE SERVICE
prebooking latest till 3.00pm the day before at Pro Travel BIKE HIRE, TRANSFER and more...
phone: 0043 6138 2525-0
service charge: Euro 7.00 per person
MOUNTAIN BIKE ROUTES in the SALZKAMMERGUT

- around Schafberg mountain, 31 miles, level: medium - difficult
- Sommersbergsee, 40 miles, level: easy - medium
- Schafbach Runde, 15.5 miles, level: medium - difficult
- Bad Goisern - Weissenbach Runde, 35 milees, easy - medium
- Breitenbergrunde, 17 miles, medium - difficult
- Zwölferhornrunde, 28 miles, medium - difficult
PACKAGE mountain biking
in the Salzkammergut
Cycling holidays for all levels - the most popular trail is "around the Schafberg mountain": up to the nature reserve Schwarzensee, further on lush mountain pastures to Eisenaualm, further down to Mondsee and back over the Schafling to lake Wolfgang. Or you join the track to Zwölferhorn mountain where every year in August the 12-er Horn mountain bike race takes place. Whatever route or distance you decide it will include wonderful views over the area.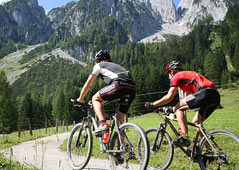 Biking near Lake Wolfgang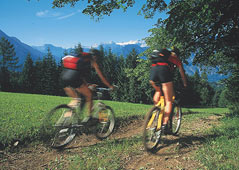 Mountainbike-Tour in the mountains
Mountainbiken Salzkammergut
Some suggested routes:
Dachstein mountain tracks
Hongar Gahberg round
Lake Wolfgangsee including the Zwölferhorn Mountain
Sandling route in the Ausserland
Sonnberg route on Lake Fuschlsee
Hoisnrad 3 in Bad Ischl
Kranbergon Attersee
For further help and information please vistit the team at Pro Travel in St. Wolfgang. They will help to find the best suited possibility and suggest the best routes. Also available are cycle maps with detailed routes. Contact Pro Travel before booking for more information on bike hire, advice on your holiday and details of organised cycle tours.