what is going on in Summer 2022 at Lake Wolfgang - Salzkammergut
Schafberg railway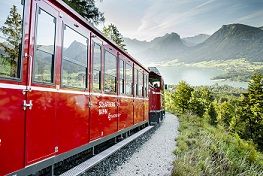 the Schafberg cog railway will be steaming up to the top of Schafberg mountain
price for return ticket:
€ 43.30/adult € 21.70/child
more information about the Schafberg railway phone: +43 6138 2232-0
an unforgettable night on Schafberg mountain
combined offer: return ticket with an overnight stay/breakfast in the Schafberghotel
€ 107.20 /adult € 73.50 /child
Schafberg mountain church service
the traditional Schafberg mountain church service is held by the Alpin Club Mondsee and takes place on
August 21st, 2022 at 11am at the Schafberg summit - in in any weather
Schafberg mountain run
human vs. steam train - Saturday May 21st, 2022 at 4 pm
4.47 miles and 3.897 feet
Romantic sunset trip - one of the most beautiful experiences in the area
dates 2022: July 9th / July 23rd / August 6th / August 20th
ascent: nostalgic steam train at 5.20 pm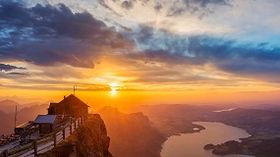 descent: nostalgic steam train at 9 pm
modern locomotive 9.15 pm
nostalgic steam train € 55.00/adult € 33.40/child
modern locomotive € 45.00/adult € 23.40/child

traditional brunch at 5.850 ft
the Hotel Schafbergspitze team will spoil you with culinary delights
dates 2022: June 19th / September 4th
ascent:
nostalgic steam train at 8.20 am
modern locomotive at 9.15 am and 10.10 am
descent:
nostalgic steam train at 1.25 pm
modern locomotive individually according to timetable
nostalgic steam train €53.40/adult €31.70/child
modern locomotive € 43.30/adult €21.70/child

children are transported free of charge as long as they do not occupy their own seat. For safety reasons, a separate seat is required for children aged 4 and over. The reduced fare therefore applies to children from 4 to under 15 years of age
Wolfgangsee boat cruise
fair winds and ship ahoy! from April 23rd to November 1st, 2022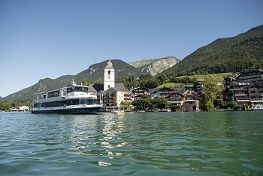 timetable 2022
Easter April 14th to 18th
pre season April 23rd to June 15th
high season June 16th to September 11th
low season September 11th to October 26th
autumn October 27th to November 1st

prices and further information Tel: +43 (0)6138 2232-0


the boat for little pirates and magic fairies sets sail again!
for children from 4 years*, a lot of doing handicrafts, singing and face painting
*only when accompanied by parents or one parent
dates: July 21st / August 4th, 2022
departure at 3 pm at the Schafbergbahn landing stage (until approx. 5 pm)
€ 15.50/child (4-14.99 years) € 19.50/adult

Pirni's shellac world - may I politely ask for a dance, Madame
old records and rarities on shellac and vinyl
dates 2022: July 8th / July 29th / August 12th
departure at 7 pm from Gschwendt's pier (opposite St. Wolfgang, until approx. 10pm)
€ 18.00/adult
romantic sunset cruises
spend the end of the day on board of the Wolfgangsee boat cruise
with some nice drinks, good music and a mild breeze
dates 2022: July 22nd / August 19th
departure at 7.07 pm from Schafberg pier (until approx. 9.40 pm)
€ 21.00/adult € 10.50/child (4-14.99 years)