Summer at the Lake Traunsee
A Holiday that Moves to you
The Traunsee area is the perfect location for a lakes and mountains holiday.
The Traunsee area
The Traunsee, or lake Traun is the deepest of the lakes in the Salzkammergut at 191 mts. A Regular ferry service stops at all the villages around the lake. Gmunden, Altmünster, Traunkirchen, Ebensee, Pinsdorf and Gschandt. For Walkers the village of Ebensee and the town of Gmunden has cable cars that take you to the top of the mountains surrounding tha lake. With marked routes to being you safely back down again.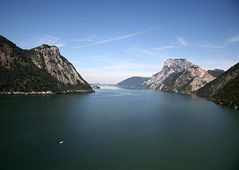 Holidays at the Traunsee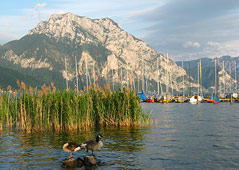 Holiday region Traunsee
Gmunden
Gmunden is famous all over the world for its ceramics. Traditionaly the ceramics are green and white stripes but now in a variety of colours. It is posssible to visit the ceramics factory on the outskirts of the town to see how the pieces are made and decorated. Gmunden was the chosen holiday destination of the composers Brahms and Schubert.
Other attractions arround the Traunsee
Gassel stalactite caves
World animal museum
Boat trips the lake
For more information on the Traunsee holiday region please contact the Salzkammergut holiday specialists at Pro Travel in St. Wolfgang.