Holiday Resorts near Lake Wolfgang
Holiday Regions in the Austrian Lake District
Holiday specialists Pro Travel, based in St. Wolfgang, have 20 years experience in organising holidays in the picturesque Austrian lake district, known as the Salzkammergut.
This region with its magnificent scenery, traditional cultures, and fascinating history is best experienced on the many excursions organised by Pro Travel.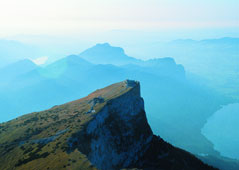 Holiday Resort Lake Wolfgang / Salzkammergut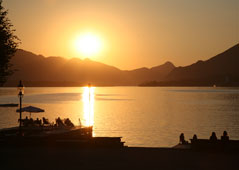 Sunset Lake Wolfgang
Lake Wolfgang is one of the most popular areas for holidaymakers. The main villages on the lake are: St. Wolfgang, St. Gilgen and Strobl. All three are connected by a regular ferry sevice. Enclosing the lake and the villages are a wonderful range of mountains that can be scaled by cog railway or cable car. Walking or mountain biking the walks and pathways on these mountains opens up magnificent views over the whole area. Lovers of water sports flock to this area for the waterskiing, tubing, scuba diving, wakeboarding and swimming. In the winter months the area changes into a paradise for lovers of snow based activities.
Other holiday areas in the Salzkammergut are:
A range of activities are available in the region to help bring you the best lakes and mountains holiday: Waterskiing, Wakeboarding, Tubing, Walking, Mountain Biking, Golf, Guided Excursions, Skiing, Snow Boarding, Cross Country Skiing, and Snow Shoe Walking.
Summer and winter the Salzkammergut is your ideal holiday destination.
For more information on the area, a full list of activities, accommodation, transfers, equipment hire, or just to ask a question please contact the friendly team at Pro Travel, based in St. Wolfgang, and we will, without obligation, assist you in choosing your best holiday options.