Welcome to the Picturesque Village of Hallstatt
Covered by UNESCO World Cultural Heritage
Hallstatt is one of the most beautiful and photographed villages in austria. Built on a small platteau that pushes out into lake Hallstatt it was home to the salt miners.
Salt mining began 4.000 years ago when the celts discovered the caves in the surrounding mountains were filled with salt. In 1997 the village of Hallstatt and the surrounding area became a Unesco World Heritage site, so preserving its history and beauty forever.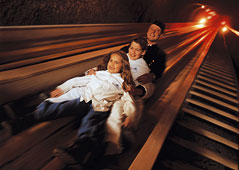 Salt mine Hallstatt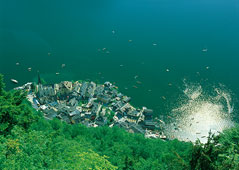 Hallstatt-Dachstein
Free time activities Hallstatt
Salt mine
A Three minute ride in a funicular railway brings you to the path that will lead you to the worlds oldest salt mine. Organised tours show you salt mining through the ages. A particular feature of the tour is the "Man in Salt". In 1734 a corpse was discovered perfectly preserved, with his tools.
Dachstein ice cave
A short cablecar ride, plus a 20 minutes walk brings you to the entrance to the ice cave. During the ride and the walk spectacular views of Hallstatt and the Lake can be seen. An orginised tour of the cave lasting one hour, shows you the natural wonders of the ice forms and the man-made ice sculptors including the "Grais Castle" "Parsifal Cathedral" and the"Tristian Cathedral". More than 150.000 people a year visit this natural wonder of the alps.
Mammut Cave
The cave features a difference of altitude of 1.199 m between the highest located entrance and the lowest ever reached point. At the present 60 km of passageways are explored. During the 1 hour tour visitors learn about the formation of caves and the working techniques of cave explorers. Time is also spent by our guides to explain how former "Palaeotraun" – precursor of today's Traun River – could once have rushed through the mountain. Higher up, in the "Midnight Cathedral", the problems faced by cave explorers during multi-day expeditions are discussed.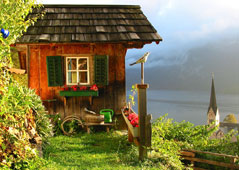 Hallstatt World Heritage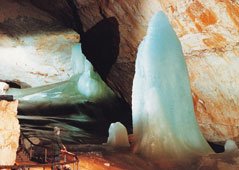 Dachstein ice caves
Other attractions in the area include
Dachstein caves museum
Rudolfsturm castle/restaurant
World culture museum in Hallstatt
Boat tours around lake Hallstatt
Late gothic Maria Himmelfahrt church