St. Wolfgang
Schafberg Mountain, Parish Church, White Horse Inn
St. Wolfgang has a number of attractions that draw visitors from all over the world.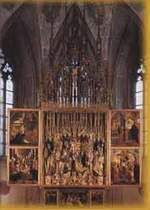 the late Gothic winged altar by the South Tyrolean artist Michael Pacher from Bruneck will fascinate and amaze you. St. Wolfgang in the Salzkammergut was once the fourth largest place of pilgrimage after Rome (Italy), Aachen (Germany) and Einsiedeln (Switzerland). The treasury in the tower guards numerous valuable objects from the heyday of pilgrimages.
church services:
Sunday 8am parish service
Saturday 7.30pm eve mass (31 March - 10 Sep)
Saturday 7pm eve mass (11 Sep -30 March)


The White Horse Inn
right next to the pilgrimage church in St. Wolfgang on the shore of the picturesque alpine lake, is the hotel "Im Weissen Rössl", which you will certainly know from the operetta of the same name and the film adaptations. Visit the former filming locations of the home movie with Peter Alexander and Waltraud Haas. Enjoy the incredible panoramic view that once impressed Ralph Benatzky and Erik Charell, the fathers of this operetta.





Schafberg Railway
from 1892 to 1893 a cog railway was bulit in the village of St. Wolfgang - starting near the lakeside to the peak of the Schafberg mountain. railway line: 3.63 miles, altitude difference 3897ft
It is operating from 30th April to 9th October 2022
time table 2022 and further information phone: +43 6138 2232-0

price for return ticket: 43,30 /adult € 21,70 /child
Lake Wolfgang Cruise
fair winds and ship ahoy! - 4 modern passenger boats and 1 nostalgic boat (paddle steamer Franz-Josef) take you to a total of 7 landing stages on Lake Wolfgang. Already in 1873 the operation of the Wolfgangsee shipping was started
from April to October the WolfgangseeSchifffahrt provides boat service on the lake

time table 2022
easter 14 to 18 April
preseason 23 April to 15 June
mainseason 16 June to 11 September
low season 11 September to 26 October
autumn 27 October to 1 November

prices and further information phone: +43 6138 2232-0



by the way: St. Wolfgang is also the perfect starting point for your bike tours in the Salzkammergut.
Visit Pro Travel's BIKE RENTAL shop the wind is already tickling your nose, the thought of struggle has vanished and then ...?
- then joy and pride spread at the end of the day.

send your non-binding inquiry and look forward to an eventful vacation in St. Wolfgang at Lake Wolfgang.