St. Wolfgang
Schafberg Mountain, Parish Church, White Horse Inn
St. Wolfgang has a number of attractions that draw vistitorts from all over the world.
The parish church in the centre of the village was founded in the year 976 by St. Wolfgang, who was Bishop of Regensburg. A must for all vistitors to St. Wolfgang is to visit the church and its marvelous wing alter of Michael Pacher which is one of the finest examples of gothic alters in the world.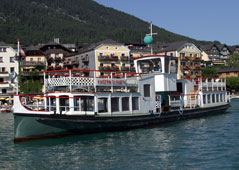 Boat trip on Lake Wolfgang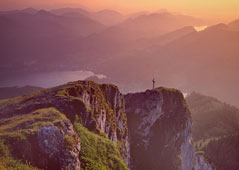 Schafberg
The White Horse Inn
The hotel, built in 1878, gained world fame when it was made the setting for the operetta of the same name. Written by Carl Jennings and Ralph Benatzky it premiered in Berlin in 1930 and from there Toured the world. In 1960 it reached a larger audience when the film "The White Horse Inn" was released.


Schafberg Railway
In 1893 a cog railway was bulit. In the village of St. Wolfgang. Running from the lakeside to the peak of the Schafberg mountain. Many of the carriages are original but the steam engines are slowly being replaced by diesels.

information about prices and time table


Lake Wolfgang Cruise
In 1873 the paddle steamer "Kaiser Franz Josef I." was launched and named in honor of the Austrian emperor Franz-Joseph. Its elegant silhouette and impressive side wheels still impress all the guests today.
The "Kaiser" has been in service since the very beginning of passenger cruises on Lake Wolfgang and remains the star of the fleet. A cruise on "Kaiser Franz Josef I." or on any other boat is the ideal way to experience the lovely landscape of the Wolfgangsee with its different points of interest.
From late April to late October the WolfgangseeSchifffahrt provides boat service on the lake.

information about prices and time table