Culture in the Area of the Salzkammergut
Holiday with Tradition and Ancient Customs
The Salzkammergut area is steeped in culture, history and tradition.
The village of St. Wolfgang was founded in 948 by Wolfgang., who was bishop of Regensburg at the time, by launching an axe off of the Falkenstein and Building a church where it landed. The story of the axe spread through the catholic communittes around europe and made the church the fourth most popular place of pilgrimage after Rome, Aachen and Einsiedeln. The village is very proud of its traditions. The village brass bands give regular free concerts during the summer, and traditional dancing and singing are performed weekly. The village has the "White Horse Inn" made famous by the operetta of the same name, written by Ralph Benatsky and performed all over the world.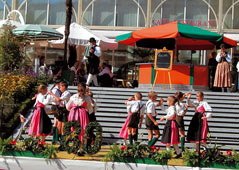 Summer festival in the Salzkammergut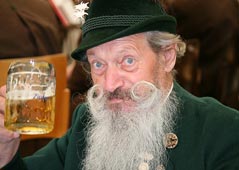 Culture & Tradition
Culture in St. Wolfgang and in the Salzkammergut
The town of Bad Ischl has a range of cultural and historical sites. In the centre of the town is the Kaiservilla. The emporer Franz Josef visited Bad Ischl 63 years running for holidays and stayed at the Kaiservilla. Oraganised tours of the villa are available. On the other side of the town is the Lehar Villa. The composer Franz Lehar had the villa built as a place to relax. His most famous piece of work "The Merry Window" is still being shown all over the world. The villa is now a museum to his life and works. Also in the centre of the town is the Café Zauner. Once vistited by the queen Elisabeth and her late sister Margaret. It boasts 122 different sorts of cakes and biscuits are baked fresh daily.
Numerous other sites in the region concerned with history and culture are available at a discount with the "Salzkammergut Card". This is available, along with more info on the sites listed on the card from your holiday specialists, Pro Travel based in St. Wolfgang.