Pro Travel: Your Travel Agent in the Salzkammergut
Exciting Holidays in the Salzkammergut
The Austrian lakes district, or Salzkammergut, is the perfect holiday destination in both summer and winter.
With 76 lakes spread over the region it is a paradise for lovers of water sports with Waterskiing, Wakeboarding, and Tubing available in most resorts. For a more relaxing way of enjoying the lakes sit back and let a ferry do the work. During the summer months the mountains provide the perfect environment for Walkers and Mountain Bikers alike, with the added advantage of views across some of the best scenery in Europe. The Salzkammerguts main holiday regions are: Lake Wolfgang, Almtal, Attersee, Ausseerland, Bad Ischl, Fuschlsee, Mondseeland, Traunsee, and Hallstatt-Dachstein.
In winter the Postalm and Dachstein ski areas provide a range of ski runs to suit all abilities.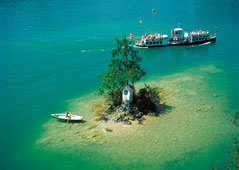 Ochsenkreuz in the Salzkammergut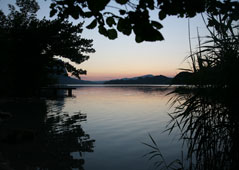 Holiday region Salzkammergut
Salzkammergut Discount Card.
The Salzkammergut Card is a discount card for a range of activities. With savings of up to 30% on 120 attractions, it enables you to make the most of your holiday in the Austrian lakes district. The card can be used for cheap ferry travel on the lakes, or the cog railway and cable cars up the mountains. With discounts on entrance fees to a variety of attractions it really does help you get the best out of your holiday.
Purchasing a Salzkammergut Card from the holiday specialist, Pro Travel, based in St. Wolfgang, should not be missed.
The Salzkammergut Card is valid from May 1st to 31st October.
For a full list of discounted attractions covered by the Salzkammergut Card, and/or information on the best places for enjoying the various sporting activities, please contact our friendly team at Pro Travel and they will help and advise you, without obligation, how to make the most of your holiday.