Pro Travel BIKE RENTAL, TRANSFER and more... at Lake Wolfgang
eventful days in the Salzkammergut
get out of the car and take a deep breath - this is how your holiday at Lake Wolfgang starts. It smells of freshly mown hay, nearby you can hear the chirping of birds and the sunbeam breaks the water surface of the crystal clear lake. Summer freshness at Lake Wolfgang - you don't need the sea!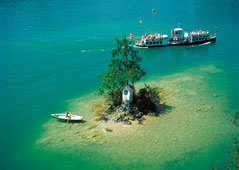 Ochsenkreuz

lace up your hiking boots and set off: across blooming meadows in spring. In summer, the picturesque mountains are reflected in the deep blue Lake Wolfgang and in October the forests glow red-gold in the stillness of autumn.
are you sporty or adventurous?
swim in one of the 76 Salzkammergut lakes and enjoy the tranquility where you can relax carefree. Enjoy the many unforgettably beautiful impressions that you take home with you from a holiday in the Salzkammergut. Visit the holiday areas of the Salzkammergut: Wolfgangsee, Almtal, Attersee, Ausseerland, Bad Ischl, Fuschlsee, Mondseeland, Traunsee, Hallstatt-Dachstein


SalzkammergutCard: adventure card for your holiday
the Salzkammergut Card, available for EUR 4.90 per person at Pro Travel BIKE RENTAL, TRANSFER and more...
benefit from a discount of up to 30 percent on admission to more than 120 sights and attractions in the Salzkammergut. In addition to discounted admission to wildlife parks, museums, swimming pools and caves, you benefit from cheap offers on train, boat trips or at Pro Travel bike rental at St. Wolfgang. The Salzkammergut Card is your perfect travel companion for your excursions in the Salzkammergut.
The SalzkammergutCard is valid from May 1st to October 31st

would you like to find out more about the Salzkammergut Card and your holiday at Lake Wolfgang?
Get in touch with Pro Travel BIKE RENTAL, TRANSFER and more... and send your non-binding inquiry!