Holiday region Mondseeland
Holidays at Salzkammergut
Close to the resort of St. Wolfgang is the beautiful town of Mondsee. Situated on its own lake Mondsee is the perfect holiday destination for lovers of culture, sports or simply relaxing.
Just a short walk from the lakeside is the town centre. The cafes are worth a picture to take home. Each buliding in painted every summer and presents a perfect start to your explorations. Just of the main square is the monastary started in the year 948. The building was commissioned by a bavarian duke, Odilo, when Mondsee was part of bavaria. The small chapel attatched to the monastary, for use by villagers as the town grew, has also grown over the years. It is now a beautiful church known all over the world, mainly because it was used in the wedding scene in the hugely popular film "The sound of music"
The Lake has a wide range of activities. Water skiing, tubing, yachting, as well as swimming. There are also pleasure cruises arround the lake. The local yacht club has an annual reggatta that fills the lake with a blaze of colour.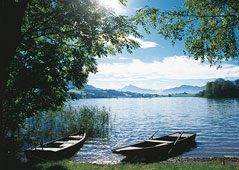 Holiday region Mondseeland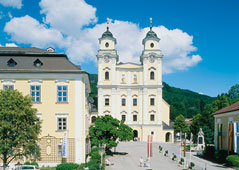 Mondesee Church
Other activities include
Golf
Castle ruins Wildenegg
For more information an Mondsee or the attractions and activities please contact the team at Pro Travel in St. Wolfgang.