White Horse Inn Hotel ****s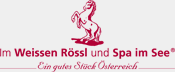 location: on the shores of picturesque Lake Wolfgang and the center of St Wolfgang

By the eponymous opera by Ralph Benatzky was the Romantik Hotel "White Horse Inn" on Lake Wolfgang famous. In th hotel are still visible traditional hospitality, comfort and service at the highest level. The rooms have bathroom / toilet, hairdryer, safe, minibar, satellite TV, telephone and radio.

The spacious spa in the lake, a 1,500 m² spa area, enjoy imperial baths, rock grotto, indoor, mist shower, panoramic sauna, the year-round heated pool in the lake (first floating spa in the world), the sun and colored light studio , sun terrace, Traunerl, heated bed, massages and many more amenities.